The Location Analysis Tool includes the ability to highlight the locations that are accessible from the current mouse pointer location using the 'live probability tracker'. This tool shows you a spider of the accessible locations from any point and also the probability of visiting a particular set of locations. It is extremely useful in understanding the landscape and how many customers are possible to visit one store or another.
Accessing the Live Probability Tracking Feature
Live probability tracking is enabled by default. You can turn the feature on and off in the settings toolbar:

Using Live Probability Tracking
The probability tracker gives the user a live view of the likelihood that a user at a particular point will visit one of the surrounding locations.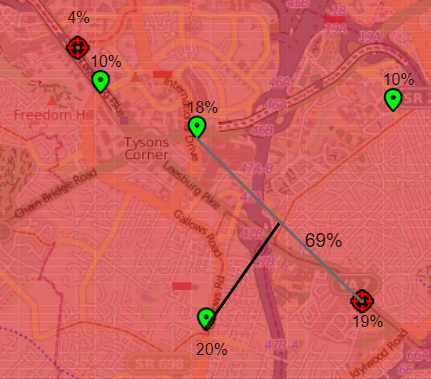 In the above example the locations include both current locations (green pins) and competitors (red targets). The tool shows multiple pieces of information:
There is a 69% likelihood that the customer will visit any one of our locations. 
The most likely location is marked with a bold black line
The next two most likely locations are highlighted with grey lines. 
All locations with a probability above 1% are also labeled but no line is drawn.
The most likely location has a 20% probability of being visited.
The user can use the tool to easily identify locations that have multiple accessible locations or are more likely to visit your competitor compared to your locations.
Display when no locations are accessible
If the mouse is further than the maximum distance from any location, the live probability tracker switches to show the distance and direction to the nearest location. In this case the probability is zero because the maximum distance is exceeded.