Overview
This article describes how to get started with the Visual Crossing Location Analysis Tool. For this simple tutorial, we are going to evaluate the impact of adding a new store to a set of existing stores. We will identify a strong potential new site location based on my existing stores, my competitors and the demographic variables included with Location Analysis.
Sample Data
We have prepared a set of sample data to use when working through this tutorial. 
You can download the datasets from the following location and unzip the two .csv files.
https://www.visualcrossing.com/installations/location_analysis/QuickStartSampleCsv.zip
Starting the Tool
From within your SAP Analytics Cloud environment, launch the Visual Crossing Location Analytics story.  You launch this analysis by clicking just like you do any other SAC story.  Once you launch the story, you will be present with the login option.
Setting Up Your Account
If you do not already have a Visual Crossing Location Analysis account, it is first necessary to create one. Please do not enter your SAP Analytics Cloud credentials here.  The account required for Location Analysis is different, but it only takes a minute to set up.  All that is required to start a free trial is a valid email - we don't require payment information or other personal information.
1. Click the "Don't have an account? Sign up" link.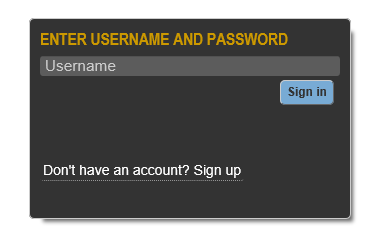 2. Enter a valid email address and hit 'Verify email'.
3. You will receive an authentication code to the email specified. If you don't receive that email, please check your spam folder.
4. Enter the verification code into the provided in the authentication box.
5. Once a valid verification code is entered, you will be prompted for your password.  Please enter and confirm an acceptable password.
6. If you are using Location Analysis as part of a team, select 'Team' and give your team a name (such as the name of your company, department etc). If you are signing up for an individual account as a single user, select the "personal" option.  If you need to change your account from "personal" to "team" later, please email support and we will be happy to help.
7. Please select you notification preference. We recommend that you elect to receive communications from Visual Crossing so that we can keep you informed about news relevant to Location Analysis. 
8. Once you have read the terms and conditions, accept the terms of conditions and hit 'Create Account'
You have successfully created your account!
Starting a Trial
The next step is to sign in with the user account you just created. After signing in you will receive the following prompt to start a trial: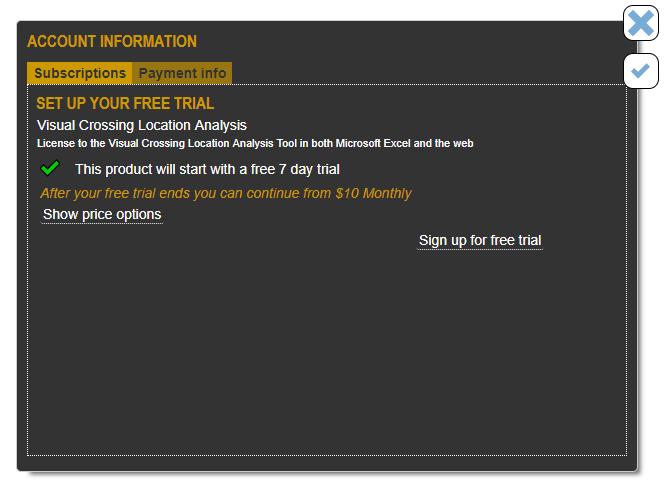 On this screen you can elect to enter a payment method for future use after your free trial has expired.  Be assured that we will not bill your card until after your free trials has expired. To continue press 'Sign up for free trial'
After signing up, the tool will show you a summary of your trial: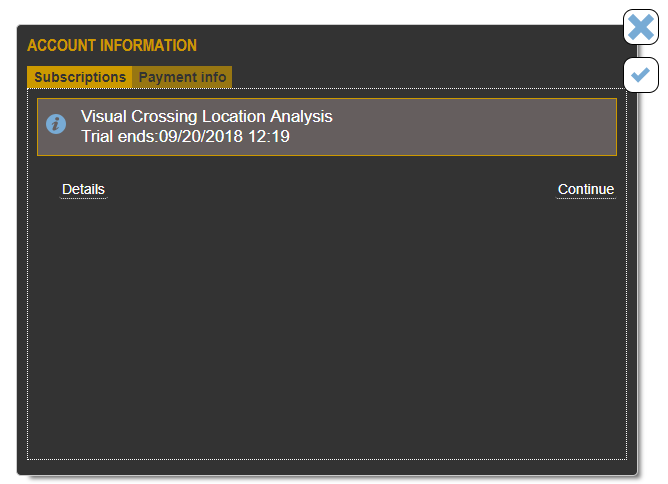 Hit 'Continue' to start your trial.
Using the Tool - An Introductory Use Case
When the tool starts for the first time, it will present you with two introductory options to choose from: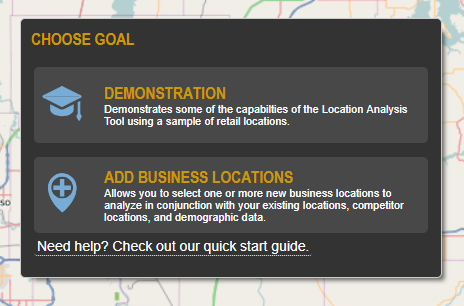 You can choose to begin by running with demonstration data or you can begin to use Location Analysis for real by providing your own location data.
For this example, we will be using the example location data provided above.
Choose 'Add Business Locations'
The tool now prompts you for the set of locations we will be evaluating. First the tool asks you to provide a set of existing locations:
This menu allows you to select the current locations you want to consider. These are locations such as stores that are currently open. In some use cases, you may not have any current locations. In those cases you would choose 'I Don't Have Any Current Locations'.
1. Choose 'Import from Text file'
2. Press 'Select file to import'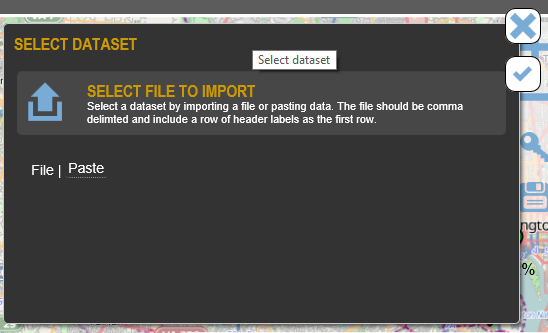 3. Browse for the 'My_marts.csv' file that was downloaded in the sample data package, and select this file.
Mapping the Columns
The tool will next attempt to match the columns selected to the data values needed for the location analysis calculations.  In this case, the columns are automatically guessed properly for Name, Latitude, Longitude, and Attractiveness.  In other cases where they are not automatically guessed correctly, you can adjust the mapping here.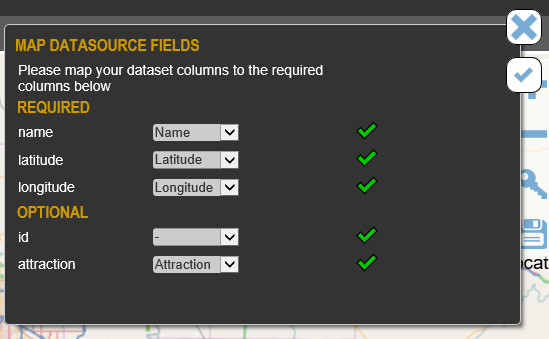 Press the 'check' mark to submit the field choices.
Import Competitors
The tool now prompts to choose your competitor locations. Competitor locations are not required for some types of analysis in the tool.  However, in this case, we have provided sample competitor locations, so we will select them now.
2. Choose the import the data from the 'Competitor_marts.csv' file
3. Accept the column recommendations.
Skip Adding Proposed Locations
The final set of location types are proposed locations. We aren't going to import those right now instead we will manually enter a sample location below.  However, if we had a list of proposed location, for example from a realtor who has identified a number of potential sites, we would select them here.
1. Press 'I don't have any proposed locations'
The Initial Display
After adding all the locations the tool will perform an initial analysis to display the current state. In our example, we have not yet added proposed locations therefore the display represents the current state of our stores vs our competitors. Based on the current state, we can determine a couple of key facts:
1. Our stores have access to a potential pool of 1.1 million  customers within five miles whereas our competitors have access to ~930,000 potential customers.
2. The initial view selected is "AREAS OF POPULATION NOT SERVICED BY CURRENT LOCATIONS".  This view represents a heat-map of locations that can acquire strong populations relative to the existing locations.  These locations may produce cannibalization to achieve their level.  The map coloring shows us where there are more customers to be found. Red areas represent areas where most customers are already served but blue areas represent areas where there are many potential new customers to target.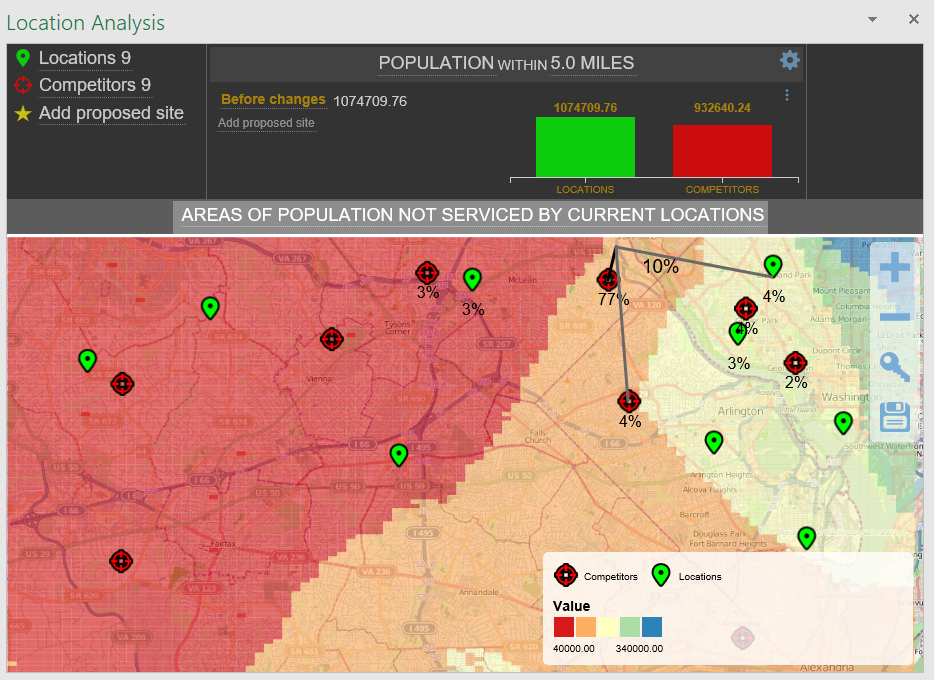 If we move our mouse, we can see the live probability tracker highlighting exactly what stores a customer, located at the mouse pointer map location, is likely to visit. In the following screenshot we can see the location has a 43% chance of visiting one of our stores. The individual store probabilities are also show, including the competitor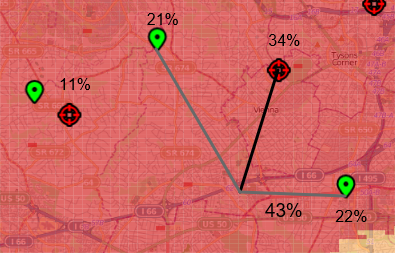 We can now analyze the data by different demographic variables by clicking on the currently selected variable at the top: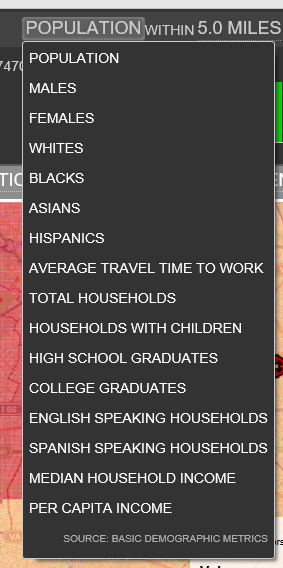 1. Click to select a different variable from the list. Clicking on the source at the bottom will allow you to select different demographic datasets. The available datasets will vary based on license and location. Please contact Visual Crossing Support for more information.
2. If you want to change the maximum distance that customers are expected to travel to reach a store, you can change the distance directly in the tool. Note that this distance will vary widely based on the type of location being analyzed.  For example, a corner store may only reach a mile or two while a regional mall may attract customers from a large geographic area.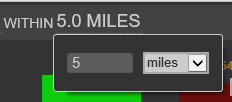 . 
Adding a New Store
The goal of this initial tutorial is to add a new store. Let's zoom out a little bit so we can analyze the surrounding area: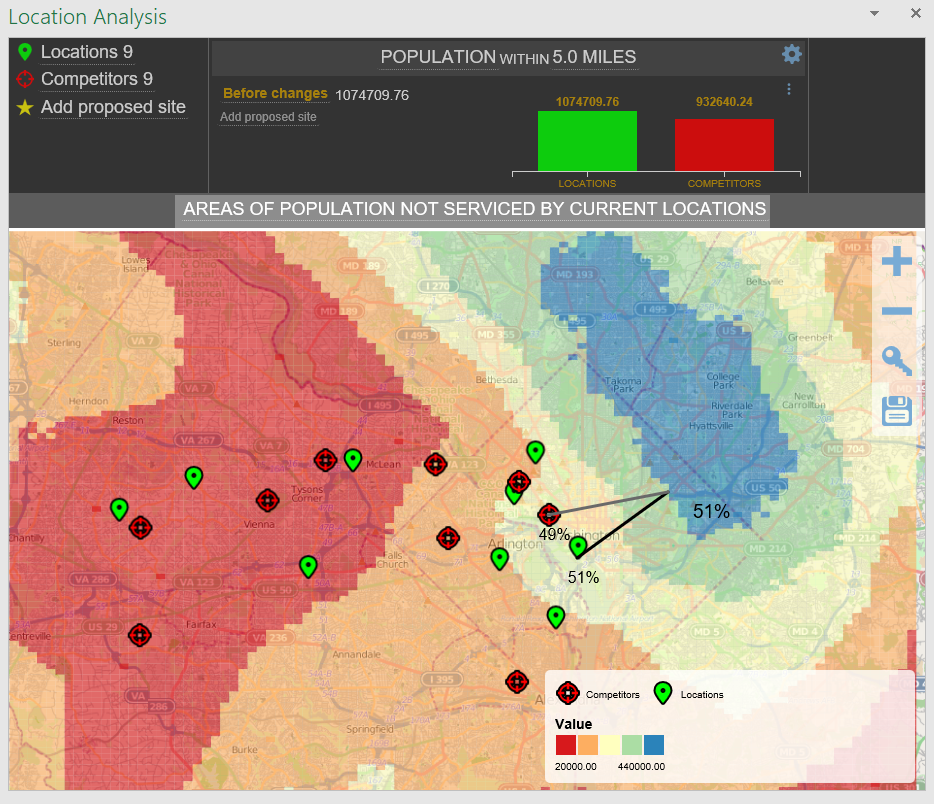 As you can see from the screenshot, zooming out shows a strong blue area to the north of Washington DC. This may be a good place to add a new store:
1. Click 'Add proposed site' in the top left:
2. The same menu is displayed as before. You can add one or more sites based on data in a file. Instead, in this example will add a site manually in the tool so click 'MANUALLY ADD LOCATIONS'

3. The manual location chooser is displayed: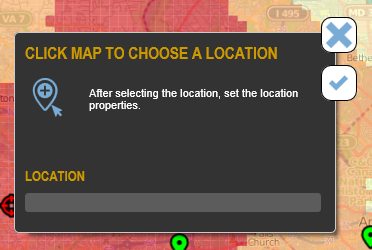 4. You can either add a location by typing an address or clicking on the map. Click in the lower half of the blue area of the map: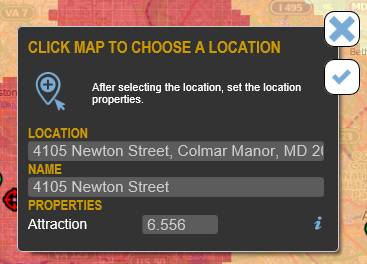 5. Then press the blue check mark to add your location:
The tool now recalculates the metrics based on your proposed location: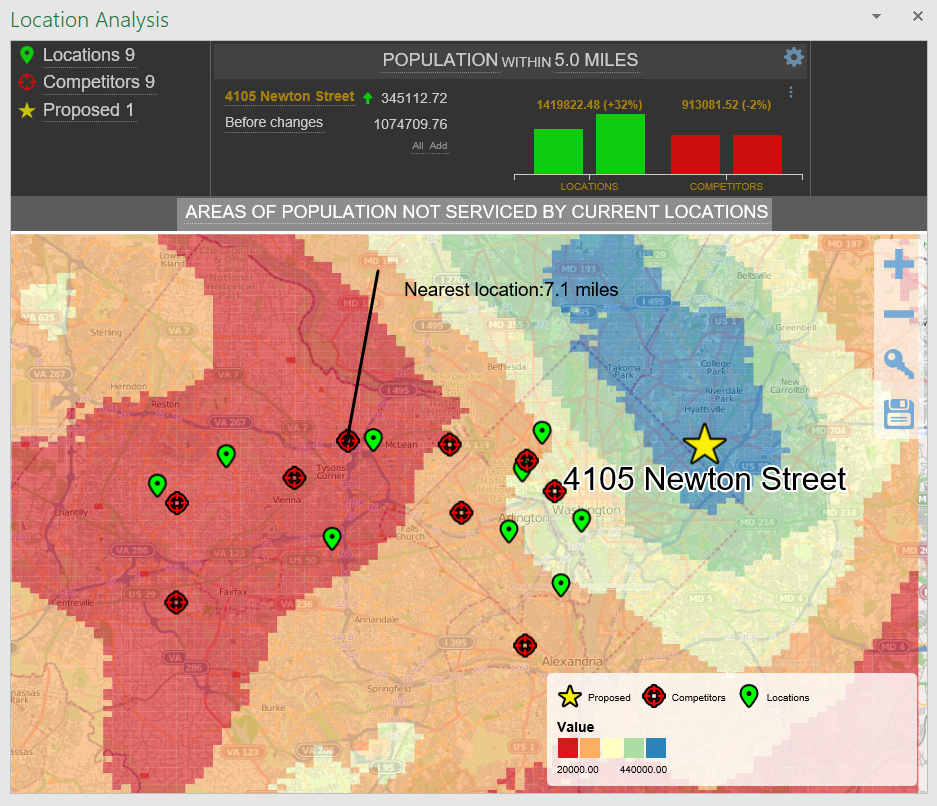 The summary of the new scenario shows a couple of key facts about our new location:
1. The new location increases our potential set of customers by 32% or 345,113 
2. The new location decreases our competitor potential customers by 2%.
Comparing New Scenarios
Let's add one more proposed location.
1. Repeat the above steps to add a new store in the north of the blue area. Note the 'Add' link below the list of scenarios allows you to quickly add a new location to compare

2. The tool now calculates the details of the new location:
3. Now the tool will allow you to compare all three scenarios.  There are three analysis options at this point: before any changes, with the first location added, and with the second location added.. 
4. Our new location is projected to perform somewhat better than our previous as it had access to 33% more potential customers. That's around 14000 more customers than our alternative proposed location. Note the exact demographic variable values you see on your screen will be different based on the exact locations that you select on the map.
5. Let's add one final store further northwest of the two currently proposed stores: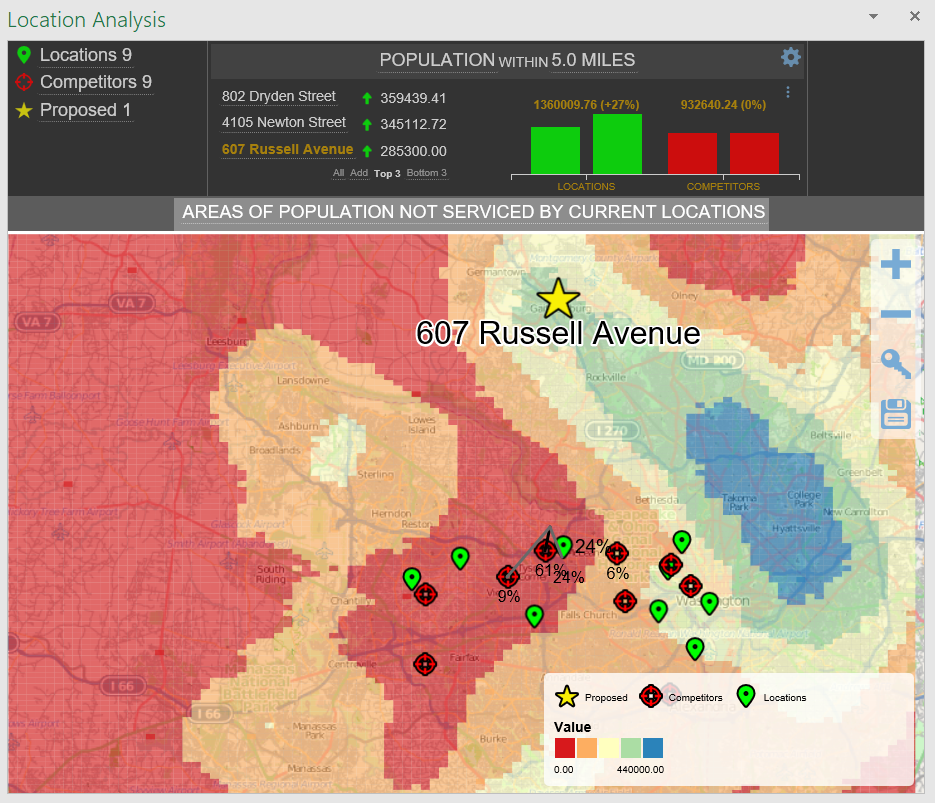 The comparison list gives us a very easy way to compare proposed locations. If you have more than three then the list will show the top three by default (hitting 'All' will show an expanded, full list)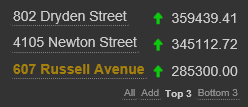 Our final proposed store seems to be considerably worse compared to the other proposed locations. The accessible population is significantly lower than the other two locations so the foot traffic will likely be much lower.
To change the map view to show any of these scenarios, just click on the name link in this list.  You will see the map update showing the location of that scenario.  Also the graph will update to represent that scenario as well.
Using other Demographic Variables
So far we have mainly scored our locations based on Total Population. What would happen if our store caters mainly for a particular demographic segment? Let's consider we are selling products that are particularly popular with Asian consumers.
If we switch to the 'Asian' demographic variable, we see the result: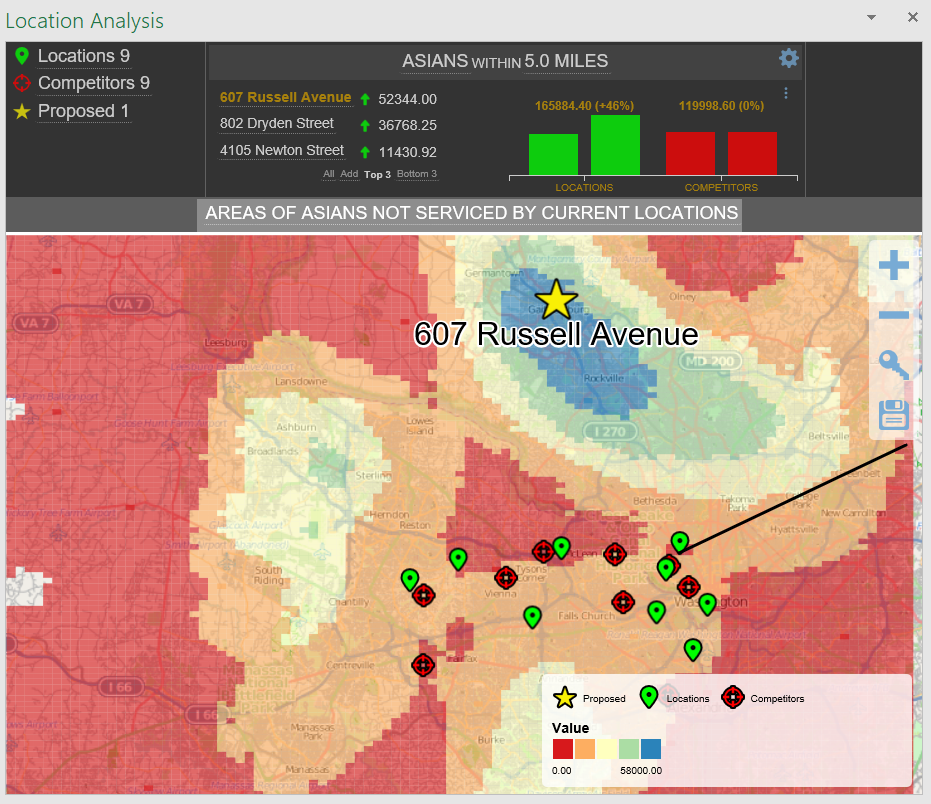 What was our lowest scoring, proposed location is now our best because it's located within an area of particularly high Asian population!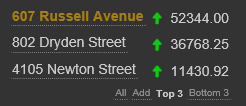 Closing Thoughts
Our initial simple walk through touched several of key features within the Location Analysis Tool:
1. Displaying the state of our current stores and competitors
2. Showing stores have high potential customer bases and which stores are customers most likely to visit.
3. Using demographic variables to target customers or clients that matter to your locations. We highlighted how different variables can change the results very significantly.
To take the above simple use case further, import your data and read the available documentation within our Location Analysis Documentation micro site. The site includes documentation on many of the features available within the tool and describes all of the key features available within the tool. 
…